¡Hola!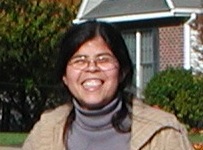 I am a teacher of Spanish (and anatomy/physiology). I enjoy languages in general, and speak Spanish (my native language), English, and Italian.
I have also completed specific training in medical interpreting ("Bridging the Gap Health Care Interpreter Training," at James Madison University, Harrisonburg, VA.)
Before immigrating to the United States, I was a general surgeon. (I remind the reader that nothing in this website is medical advice. If you have a medical problem, consult your healthcare provider.)
I now teach full time, and I am completing my master's degree in Spanish Linguistics and Teaching of Spanish as a Second Language.
My family is very important to me. I love helping the kids with their homework (and singing to our newborn), going swimming in the summer, adventure bike rides, helping them make a garden, teaching them about life, and of course, sharing time with my husband.
If there is a specific phrase or medical scenario that is important to you, but not yet present in the website, just let me know via the contact option.
To all of you who provide healthcare to underserved populations and communities in need, I would like to say thank you!

¡Que tengas un día maravilloso!